There are not many large seven-seater SUV's that look this good, but the Mazda CX9 2.5L GSX has a lot to love about it.  This car measures about 5075mm long, 1969mm wide and 1747mm tall, and ours come in Snowflake White, Machine Grey and Sonic Silver.  This has a four-star fuel consumption rating using about 8.8L per 100km, they have 74 litre tank and take Regular unleaded (91 or higher) petrol.
The Mazda CX9 has i-ACTIV all-wheel drive, automatic transmission with normal and sport modes. It features a 2.5L engine and i-STOP feature to reduce fuel consumption, this means that when you come to stop the car engine will cut out but this feature can be turned off which is handy if you are stuck in Auckland traffic.
It doesn't matter if you are driving around Auckland or going out of town, this car has all needs for a modern family, the large cabin has air conditioning and 3 zone climate control rear vents.  There is also cruise control, power adjusted and heated seats in the front to keep you cosy when it gets cold.  You can connect your phone to be hands free and listen to your music via Bluetooth, Apple Carplay, Android Auto or USB, and control it with steering wheel mounted controls.
The Mazda CX9 interior features are push start button, satellite navigation and multi information display with an 8" colour touch screen with reversing camera. The second and third row fold down if you need more space to fit luggage or sporting equipment. There are cup holders front and back which are essential for long road trips with kids, leather trim seats, shift knob and steering wheel.
The exterior has a hidden aerial inside the roof mounted shark fin up top, LED headlights which can be set to automatic on/off function, keyless entry with remote locking function, the mirrors have side indicators, heating function and automatic power fold, while the windscreen wipers have a 2-speed rain-sensing function.
The Mazda CX9 is packed with safety features like 6 airbags – In the event of a collision, Mazda vehicles are equipped with a Supplementary Restraint System (SRS) whereby multiple airbags are deployed to reduce the risk of serious injury to the head and upper torso of the vehicle occupants, two in the front, two on the sides and curtain airbags make up the six, ensuring occupant injury is minimised in the event of a collision.  Anti-lock braking system (ABS) prevents wheel lock-up and consequent sliding under heavy braking or on slippery road surfaces, Dynamic Stability Control, or DSC, uses the speed sensors on each wheel and the ability to brake individual wheels that are the basis of antilock brakes, Emergency Brake Assist (EBA) monitors brake pedal force and input speed to determine when emergency braking is occurring. When detected, it automatically applies maximum braking force to all wheels. This reduces stopping distances during emergency braking. It works in conjunction with the ABS to also provide maximum steering control in these situations.  Other safety features include Automatic door lock, 2 ISOFIX child restraint anchors, daytime running lights, electric parking brake, front and rear parking sensors, seatbelt warning and 5-star ANCAP safety rating for your peace of mind.  Our Mazda CX-9 also makes a wonderful wedding car, click here to find out more.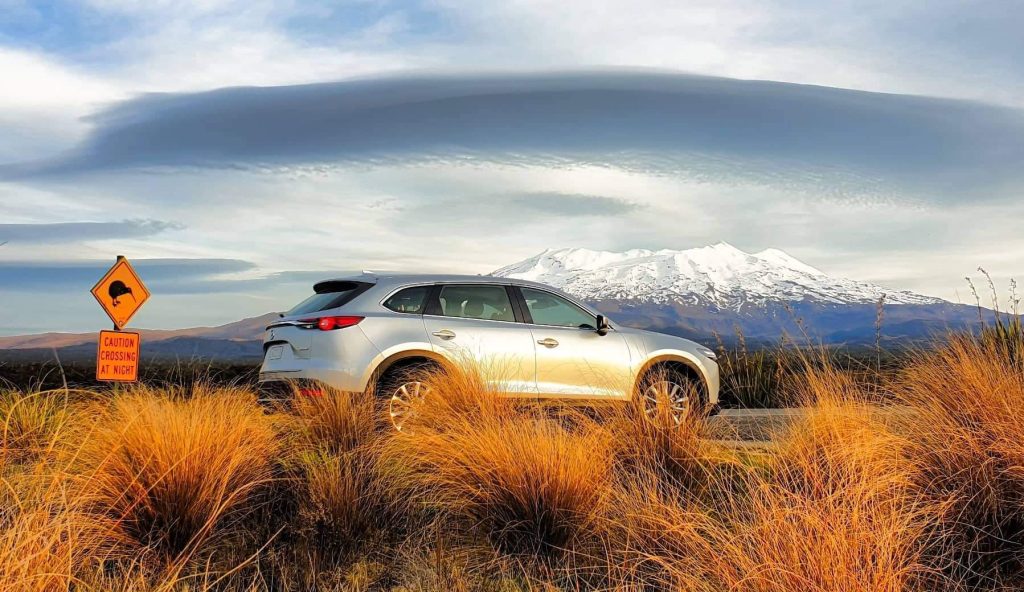 There is much to enjoy with this car so book one for your next car hire. Book your Mazda CX-9 here