1. Go Shopping
With more than 400 shops, Takapuna is one of the main shopping destinations on Auckland's North Shore. Hop into your rental car and you'll find shops that sell beachwear, décor, clothing, footwear, gifts and home décor.
In Takapuna head along to the main strip Hurstmere Road and nearby Shore City Mall. Go to the Sunday markets in the morning for fresh fruit and vegetables, crafts, furniture and antiques, bargains and specialty foods.
Milford is now home to high end fashion and homeware stores with shops not normally found in other Shopping centres, and is an exciting mix of New Zealand and international stores. Shop for brands like Veronika Maine, Witchery, Trenery, Storm, Decjuba and Flo & Frankie.
Albany is an expansive shopping area including the Mega centre which is home to large clothing, electronic and homeware stores like The Warehouse, Noel Leeming, Briscoes, Rebel Sport and Farmers. Across the road you will find Westfield Albany shopping centre, your one-stop hub for shopping, entertainment and dining.
2. Art and Boutique Wineries
An hour north of Auckland City lies the Matakana Coast where you will find award winning wineries and delicious local cuisine. Follow the Matakana Wine trail or check the array of Art Galleries in the area. There are two places that offer both, Brick Bay is a boutique Matakana vineyard producing estate grown wines such as Pinot Gris, Rose and Bordeaux-style red blends. Visit the Glass House, the spectacular tasting room and gateway to the Brick Bay Sculpture Trail. The Sculpture Trail winds through a remarkable native landscape, showcasing 50 works by New Zealand's leading contemporary sculptors. Open daily for wine tasting, cellar door sales, seasonal platters, coffee and the Sculpture Trail.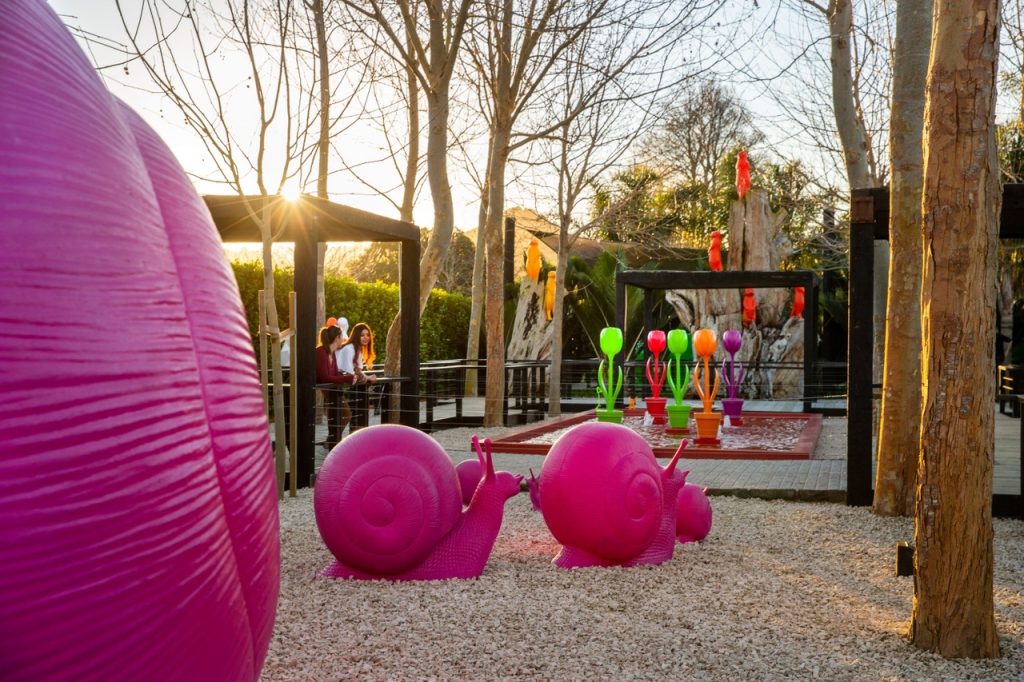 A few minutes' drive from Matakana village lies Sculptureum, with three art-filled gardens, six galleries displaying contemporary glass art works, a vineyard, a function centre and Rothko the site's restaurant and bar which all flows over 25 acres. There are more than 150 exhibits and some 400 works that fill The Garden of Creative Diversity, The Palm Garden and The Pink Snail Garden.
3. Play Golf
In North Auckland we are spoilt for choice when it comes to golf courses, you will find a mix of world-class courses and casual courses in the region.
The Gulf Harbour Country Club is New Zealand's most accessible, genuine championship golf course. Located on the eastern cliffs of the Whangaparaoa Peninsula, just a 45-minute drive north of Auckland City. This is the only course in New Zealand designed by the esteemed American designer Robert Trent Jones Jr and hosted the 1998 World Cup of Golf.
The Wainui Golf course is nestled among old pine trees and rolling hills in an 18-hole Puddicombe designed course, with a 9-hole orchard course. The course incorporates the natural topography of the New Zealand countryside and captures the rugged beauty of Kiwi landscapes.
Omaha Beach Golf Club is an 18-hole sand-based golf course, which is less than an hour's drive from central Auckland and a world away from the frenetic pace of the city. It's a links style resort course, crafted by its designers to make the most of its stunning seaside location.
Bordered by the sea on one side and a natural estuary on the other, the course offers a unique and pleasant golfing experience. Native Totara, Pohutukawa, Manuka and a large stand of Kahikatea all add to the natural beauty of the course.
Mangawhai Golf Club is located about an hour north from central Auckland. It is an 18-hole championship course that is consistently ranked in New Zealand's top 20. This Sand-based course is always playable and offers challenge and reward for golfers of every ability. Well-groomed fairways and immaculate greens are the course's hallmark. The course is set amongst native flora and follows the natural, gentle undulations of what is described as perfect golfing terrain.
4. Hit the walking tracks
One of the best ways to see and experience North Auckland is by walking tracks and trails. The Milford to Takapuna Walk also known as the "Lava Trail" is a coastal trail which is best done at low tide. You can explore the coastline from the northern end of Milford Beach to the southern end of Takapuna Beach and admire the local marine life in the volcanic rock pools and fossils of ancient forests preserved by lava flows. The route gives uninterrupted views of the Hauraki Gulf and Rangitoto Island, Auckland's most recent volcanic cone.
The Okura Bush Walkway winds through coastal forest full of nikau palms and regenerating kauri, leading along the Okura River estuary and the edge of Long Bay and on to Stillwater. Make sure you take some water for the three-hour return track. Upper Harbour's reserves have something to offer every keen walker from easy walks to tramps suitable for the more experienced. Discover the waterfall at Gills Scenic Reserve in Albany or enjoy the small Waitematā Harbour beaches from Luckens Reserve in Marina View or test your fitness on a harder tramping route through Paremoremo Scenic Reserve.
5. Eat
North Auckland is full of fabulous eateries to cater for all tastes. Some of the best places to eat in are The Engine Room in Northcote Point serving bistro style food in a former old post office. They cook delicious food using fresh seasonal and local produce and never have a spare seat so book ahead.
Regatta in Takapuna is a chic beachside bar and eatery and channels an upscale nautical style. They source local and have an emphasis on seafood.
The Grange at the Goodside in Smales Farm is an all-day bar and bistro. Enjoy the atmosphere with low hanging lights and indoor plants, while being served up Italian style dishes.
21 days in Browns Bay is an all-day steakhouse which backs onto the beach with al fresco dining and open kitchen design, they serve up some of the best steak and classic style meals.
6. Snorkel and Kayak
At Goat Island in Leigh is some great snorkelling, the reserve is fun for the whole family with a stunning beach and amazing fun. There is a huge array of fish like giant snapper, eagle rays, large schools of fish and crayfish. If you do not want to get wet there is also a glass bottom boat and clear kayaks.
The University of Auckland operates the Marine Discovery Centre located next to the reserve where you can observe how the marine sanctuary functions and get up close and personal with videos, interactive displays and a touch tank. The Tawharanui Marine Reserve gives you a great chance to spot many endemic species like snapper, crayfish and kelp forests, Tawharanui is a great place to snorkel and kayak without the crowds of Goat Island.
On Auckland's North Shore is Long Bay-Okura marine reserve, the best places to snorkel are at the reefs at either end of the beach where you be able to spot snapper, rays and many reef fish among the seaweed. You can also launch your kayak at Long Bay and paddle around to Karepiro bay, Okura estuary and river.
7. Climb a Volcano
If you are looking for the best views in Auckland, try heading up one of the dormant volcanoes in the area. North Head and Mt Victoria are two volcanoes that are side by side in the scenic area of Devonport, if you walk to the summit you will be rewarded with stunning views of the Hauraki Gulf, Auckland city and the North Shore. North Head is one of the region's oldest volcanoes and most significant historical sites in New Zealand. While Mount Victoria is one of Devonport's most iconic landmarks and was once a Maori Pa (village or defence settlement). You will find artillery emplacements and concrete bunkers here.
8. Beaches
North Auckland has some of the most beautiful beaches. Takapuna Beach on the North Shore is a popular beach surrounded by cool cafes, restaurants and shopping boutiques, this is a calm beach and great for friends or families.
Cheltenham Beach in Devonport is a sheltered beach and good for families, set amongst Victorian style villas, like Takapuna beach but less crowded.
Orewa on the Hibiscus Coast has a laid-back vibe and long stretch of sand, is great for swimming, surfing, paddle boarding, kayaking and has a large playground for kids. It pays to get there early in Summer as the carpark and grass areas fill up quickly.
Omaha is a wide stretch of white sand with views out the Hauraki Gulf islands and it is easier to get to than some of the other beaches in the area. Perfect for swimming, kayaking and paddle boarding Pakiri has 14km of pristine white sand beach with clear water, take a guided horse trek along the beach or go camping. Pakiri is quite isolated – perfect for some peace and quiet.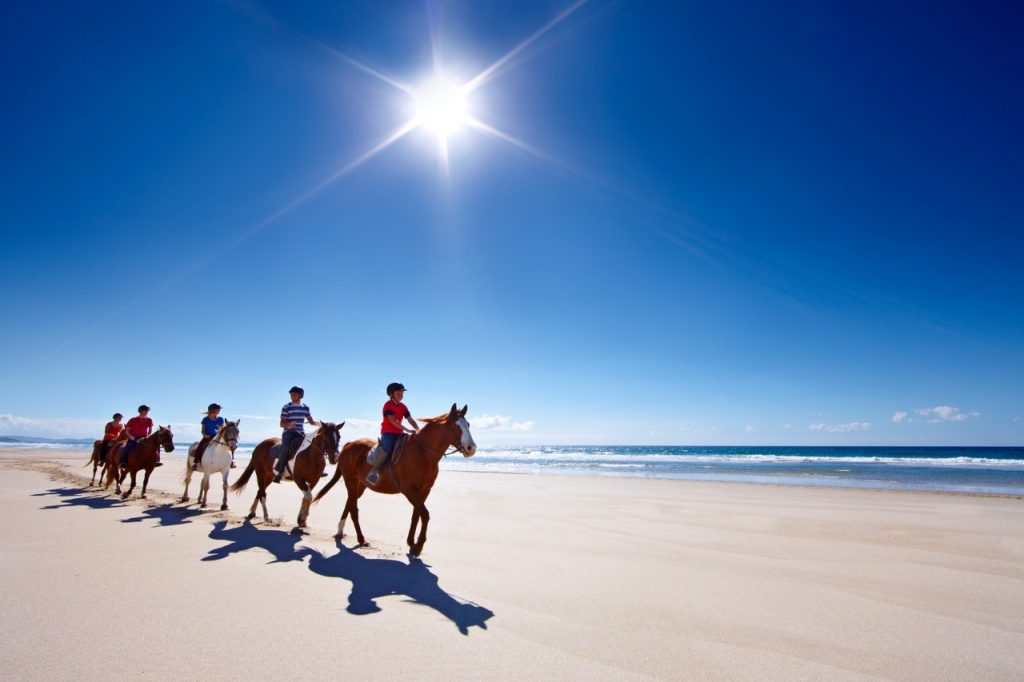 Anchor Bay in Tawharanui is an all-round favourite and Instagram worthy spot, even though it is an 80-minute road trip, it makes a great day out with golden sand and clear water making it quite popular. Check out the rock pools during the day and go star gazing at night.
9. Regional Parks
We are so lucky to have so many stunning regional parks in north Auckland to get away from the hustle and bustle and breathe in some fresh air. Long Bay Regional Park on Auckland's North Shore is a seaside reserve with a kilometre long beach with walking tracks that take you over the cliff tops with views over the Hauraki Gulf and through native forest or around the original homestead, which has been restored.
Tawharanui is one of north Auckland best kept secrets and one of the best swimming and surfing spots in Auckland. There are large grass areas with Pohutukawa trees to provide shade in summer and several walking tracks providing panoramic views to the end of the peninsula. Shakespeare Regional Park offers clifftop views and is beachside.
Te Haruhi is the most popular beach with wide grassed areas and large shady trees. There are several walking tracks, the Heritage trail takes you through native forest, wetland and farmland where you can reach historic world war II gun emplacements. The TiriTiri track takes you from Te Haruhi Bay past an old Maori settlement to views of TiriTiri Matangi island.
Wenderholm Regional Park is located between Waiwera and Puhoi and is a great place to go for a swim, kayak, go camping or explore the forest. The native forest walks climb up into the park's headland which lies between the Waiwera and Puhoi Rivers. Hikers are rewarded with long range views up the Puhoi River valley and across the sea to the islands of the Hauraki Gulf. Rare North Island robins have been successfully released into the forest areas of the park, look for them while you are out walking.
10. Awesome Adventure
If you have kids or just looking for some fun, there are a few places you should consider to keep them entertained. Snowplanet, an indoor snow recreation centre in Silverdale on the Hibiscus Coast. Snowplanet is New Zealand's first indoor snow facility where you can ski, snowboard and go snow tubing all year round.
Xtreme Entertainment in Wairau Valley has tenpin bowling, laser tag, kids zone, video games and pinball machines all under one roof. Game Over in Albany is the ultimate indoor fun with exhilarating go karts, safari laser tag, Jurassic mini golf and arcade games.
Jump in Rosedale is an indoor trampoline park with a main court floor covered jumping playground, a foam pit, dodgeball court, basketball lanes, performance wall and ninja warrior course.
Silverdale Adventure Park has a cosmic play zone, an adventure playground just for the little ones, with amusement rides and a play zone to explore, 7D cinema, tube slide, downhill luging and vertical bungy and dual zipline.
————————————————————————————————————
Discover if Driving in New Zealand is Safe Next >