Explore 10 road trips you can take in a day from Auckland
Waitomo
The Waitomo caves are one of New Zealand's most famous natural attractions. Take a beautiful drive in your rental car to see these amazing caves, which are 30 million years old and are part of the Waitomo Caves system, that includes the Ruakuri Cave and the Aranui Cave (each cave has its own history).
Wonder through the Glowworm cave and marvel at its tallest chamber, the Cathedral, before going on a boat ride through the glow worm grotto. On this boat ride, you will sit in silence and be able to take in the magical creatures lighting up the cave above.
The Ruakuri Cave is the largest cave in the Waitomo area and was discovered between 400 and 500 years ago. Enter this wheelchair accessible cave through a spectacular man-made spiral entrance, which opens into an extensive system of limestone formations and crystal tapestries. Learn about the rock formations and see glow worms up close.
Lastly, we have Aranui Cave. Although Aranui does not have any glow worms due to the absence of water. It is home to some of the most spectacular pale brown, pink and white stalactites and stalagmites the Waitomo region has to offer. Everywhere you look in Aranui is adorned with fragile, sparkling formations, which create an enchanting experience.
Go Black Water Rafting, this is guaranteed to get your adrenaline pumping. Head 80-metres below ground, raft in tubes through underground rapids, jump off waterfalls and float below a sky of glow worms, all whilst exploring one of New Zealand's most diverse cave systems.
If you are heading to the caves be sure to check out the Ruakuri Bushwalk, Marokapa Falls and Managpohue natural bridge.
Northeast of Waitomo is the Otorohonga Kiwi and Native bird park, which is home to over 20 brown kiwi, ducks & waterfowl, parrots and reptiles.
Hamilton
Located just over 1 hour and 30 minutes from Auckland is the riverside city of Hamilton in Waikato.
The most popular tourist destination is the International award-winning Hamilton Gardens, each garden has a different theme such as the peaceful Sung Dynasty Chinese Scholar's garden, the Italian Renaissance Garden and Indian Char Bagh Garden.
Telling the story of gardens through themed garden collections, Hamilton Gardens explores different civilisations, and recreates historically important garden styles from the furthest places of the world.
The gardens are a 5-minute drive from the CBD and are open 7 days a week, guided tours are available.
In Hamilton, you will also find many other activities, including:
Hamilton Zoo
A scenic cruise across the Waikato river explorer
Hamilton lake
Waterworld
You can also discover New Zealand's only tea plantation Zealong Tea Estate with a variety of activities, including guided tours, a teahouse, and a visitor centre, only 10 minutes north of Hamilton.
Matakana
Just 45 minutes north of Auckland you will find Matakana is a beautiful spot to escape the city for the weekend.
Known for its award-winning wineries, artisan food, stylish boutiques, galleries, the arthouse cinema complex and the Matakana farmers market which is hosted every Saturday morning and is an absolute foodies heaven.
Matakana is a popular rural area throughout the seasons where you can also visit The Sculptureum which contains:
Three art filled gardens
Six galleries
A vineyard and a restaurant
Matakana Country Park is family friendly entertainment with an animal park, adventure playground and pony rides.
Other things to do is visit the Matakana Boutique cinema and see Morris and James Pottery, known for their handcrafted pots and homewares.
Mount Maunganui
Also known as "The Mount", Mount Maunganui is about a 2 hour, 45 minute drive from Auckland. Head here for long white sand surf beaches and a relaxed atmosphere.
Mount Maunganui's Main beach has been crowned the best beach in New Zealand. Perhaps the most iconic thing is Mauao, which rises 232 metres from the sea. This is an extinct volcano which is a popular walk to the top, offering spectacular 360 degree views over the Bay of Plenty. Then following this, you can stroll across to the many cafés and restaurants lining the road across from the beach.
There are numerous beach, ocean and sporting events held here throughout the year.
Just a stone's throw from the beach you can find the Mount Maunganui hot ocean pools, where you can relax outside or enjoy an onsite massage.
There are also plenty of scenic helicopter flights available, big game fishing charters, dolphin cruises and diving trips to do as well.
Karangahake Gorge
As you approach the Coromandel you will find the Karangahake Gorge, known as a significantly historical gold mining site. There are plenty of tunnels and walkways to explore and learn about.
Discover the rich history hidden in the gorge and cycle the Hauraki Rail Trail. The Windows Walkway would have to be rated as one of the most stunning in the area, with windows blasted through the gold mining tunnels providing stunning views into the Waitawheta River.
Karangahake Gorge is located on State Highway 2 between Paeroa and Waihi is about 2 hours drive from Auckland, or 1 hour from Hamilton or Tauranga.
An alternative way of seeing the Karangahake Gorge is the Goldfields Heritage Railway which operates a daily service between the Waihi Railway Station and Waikino Station Café.
Rotorua
If you are looking for a great family getaway, look no further than Rotorua, it is an adventure playground with activities for all ages and only 3 hours from Auckland.
Close to town, you will find the Whakarewarewa Forest with Redwood trees towering above, native ferns and the sun peeking through the canopy, there are hundreds of kilometres of walking and mountain biking trails. Sail some of the 18 pristine lakes from atop a luxury yacht, or get closer to nature and kayak to rejuvenating natural hot springs.
When adventure beckons, tackle the world's highest commercially rafted waterfall; or visit world-class adventure attractions that provide the ultimate thrills, walk the summit of a dormant volcano or zip-line through rainforests filled with sounds of birdsong.
Experience authentic Maori culture and feel the manaakitanga (hospitality) of the Te Arawa people who have greeted visitors to the region for centuries. Share in the culture and traditions of this rich and powerful heritage; from the celebrated haka, tradition of carving and weaving to modern-day design and architecture.
Soak in world-renowned curative waters, bathe in mineral-enriched mud, and experience traditional Māori massage to the backdrop of a geothermal wonderland dotted with crater lakes, erupting geysers and boiling mud pools.
Coromandel Peninsula
The Coromandel is renowned for its natural beauty, green pastures, misty rainforests and pristine golden beaches, The Coromandel is blessed with hundreds of natural hideaways, making it an ideal place to escape.
Some of New Zealand's most iconic places can be found here in The Coromandel. The remote northern part of The Coromandel is home to the spectacular Coromandel Coastal Walkway, an untouched beautiful part of the country that is worth exploring. Within two hours either side of low tide visitors flock to the usually deserted Hot Water Beach to find hot water bubbling through the golden sand.
Cathedral Cove is best visited by boat or kayak with local tour guides who explain the geology, cultural and historical significance of the many scenic sites they explore in Te Whanganui-a-Hei Marine Reserve.
The Pinnacles walk is rated as one of New Zealand's most popular overnight hikes. It can also be walked in one day (allow 8 hours), however it's staying at the 80-bed DOC hut that gives the opportunity to capture the sunset and sunrise.
Follow in the steps of the early pioneers who plundered the Kauaeranga Valley in pursuit of fortune, logging kauri for timber and gum and mining for gold.
Whangamata is home to one of New Zealand's most beautiful coastal attractions. For a long time Whenuakura, (commonly referred to as Donut Island), was a local secret.
Taupo
Located in the centre of the North Island, you will find Taupo. As you travel around the lake you will find snow covered ski fields, alpine deserts, ancient forests, trout filled rivers and the thundering Huka Falls.
See steaming geothermal valleys, hot springs and admire the landscape of the Tongariro National Park.
Visitors are often drawn to the region by its phenomenal range of outdoor activities which include:
White water rafting
Bungy jumping
Skydiving
Jet boating
Mountain biking
Hiking
Trout fishing
Golf
Scenic cruises
Water sports (swimming, sailing, parasailing, water skiing, wakeboarding)
Taupo has a town centre full of cafes, restaurants and bars serving gourmet food, excellent coffee (often locally roasted), locally brewed craft beers and wine, and organic and free-range local produce. Families enjoy the many public spaces and one of the country's best children's playgrounds.
Bay of Islands
A 3-hour drive north of Auckland is The Bay of Islands, a subtropical micro-region known for its stunning beauty & history, perfect for those who love beaches and water activities. There are 144 islands between Cape Brett and the Purerua Peninsula and includes the boutique towns of Opua, Paihia, Russell and Kerikeri.
There is a choice of tour operators offering excellent trips by sea to Cape Brett and the 'Hole in the Rock' on Piercy Island. A passenger ferry service runs between Paihia and Russell.
On land, enjoy beautiful river and seaside walking tracks or encounter the mighty Kauri Tree in pristine subtropical rainforest. Embark on a voyage of discovery and enjoy the beauty of the area when you join a daily cruise, charter a yacht or hire a sea kayak.
Once you are around Tapeka Point, you will enter a maritime adventure playground with an abundance of wildlife including penguins, dolphins, marlin, whales, gannets and more.
Many of the islands here have walking tracks and there is a camping ground on Urupukapuka Island (managed by the Department of Conservation).
Auckland's West Coast Beaches
Auckland's wild west coast black sand beaches are known for their rugged beauty, which stretches for miles and only within an hour drive from Takapuna.
The Waitakere ranges were formed by volcanic eruptions over 22 million years ago and are now covered in beautiful native rainforest.
The west coast is where you find popular surf beaches such as Bethells (Te Henga), Piha, Muriwai, Whatipu, Karioitahi and Karekare.
At Bethells (Te Henga) Walk along the beach, go sliding down the sand dunes at Lake Wainamu or take the four-hour walk between Muriwai and Te Henga.
Piha is one of Auckland's best surf beaches, go for a walk, see Lion rock and the Maori carving.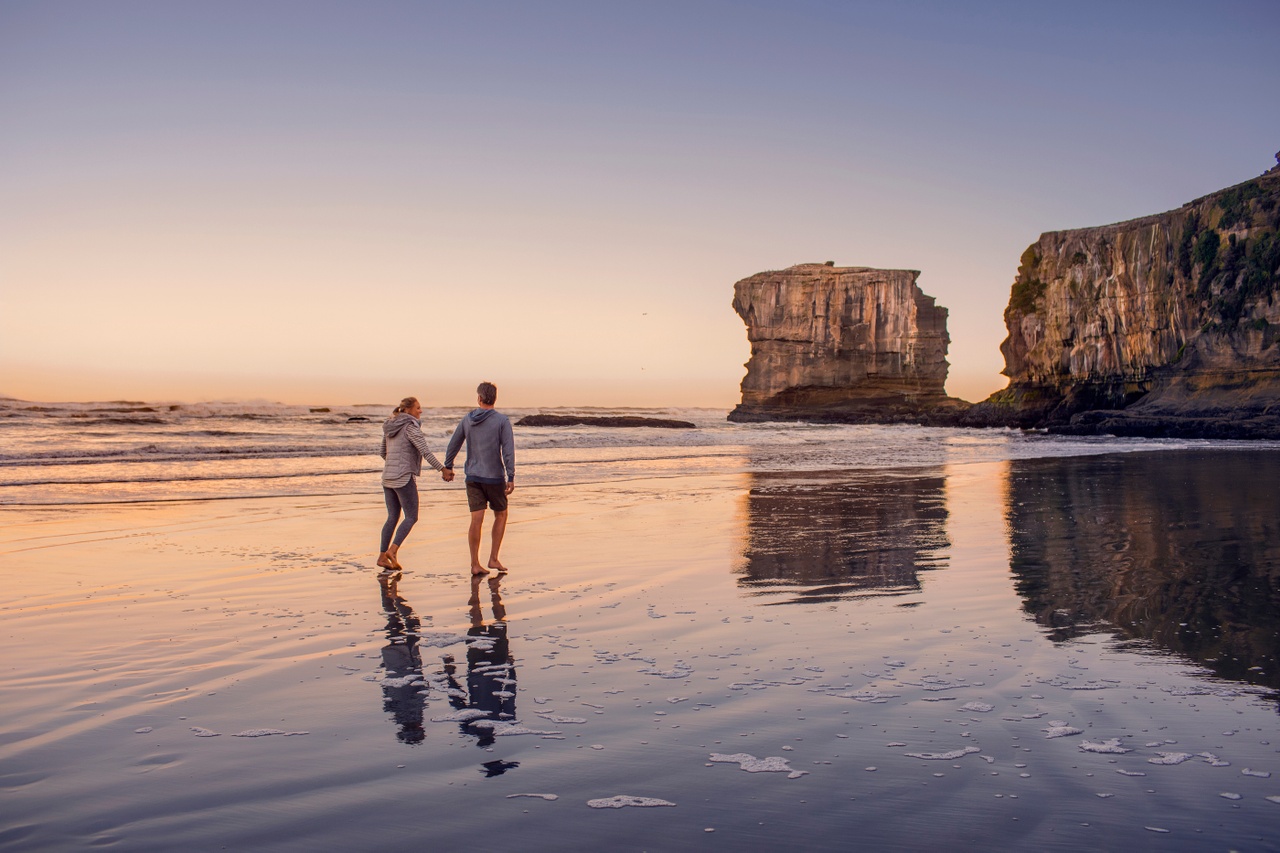 At Muriwai you will find the famous cliff-top gannet colony where they come to nest from August to March. What can you do here?
Stroll the boardwalk and breathe in the crisp sea air
Go camping
Take a surf lesson
Hire blokarts, kites, mountain bikes, surfboards
Play a round of golf at the nearby course
The striking black-sand beach of Whatipu is located amongst an area of sand dunes, rocky cliffs, caves, and wetlands. The Omanawanui Track in the Waitakere Ranges Regional Park offers stunning views and takes just over 2 hours to complete. Explore the Whatipu Caves Track to pass by numerous old sea caves for a 45-minute return hike.
At Karioitahi beach there is so much to do here, like horse riding, surfing, blokarting, paragliding, hang gliding and 4-wheel driving. If you would rather relax, take a walk or go fishing with the locals.

On your way there or back, explore nearby Waiuku Forest, with a range of tracks, trails and recreational activities. Karekare beach is the backdrop to many movies and tv shows. Nearby see the beautiful Karekare Falls, just a short walk from the main beach.

_________________________________________________________________________

< Prev Go back to is driving in New Zealand safe