It was a tough choice but we have compiled a list of the best beaches in the North Island of New Zealand. Get out and explore the country this summer with one of our late model rental cars. We have a range of cars to suit your needs whether you are a couple travelling or a family with plenty of luggage, there is a car for you at Shore Rentals. Book a car online or give us a call on tel:094880920.
Whale Bay
Whale Bay on the Tutukaka coast is an idyllic white sand, bush fringed beach. It is walking access only from either the car park on Matapouri Road (30 mins round trip), through groves of ancient Puriri trees or via Matapouri Bay (40 mins one way). Great for swimming, snorkelling and picnics.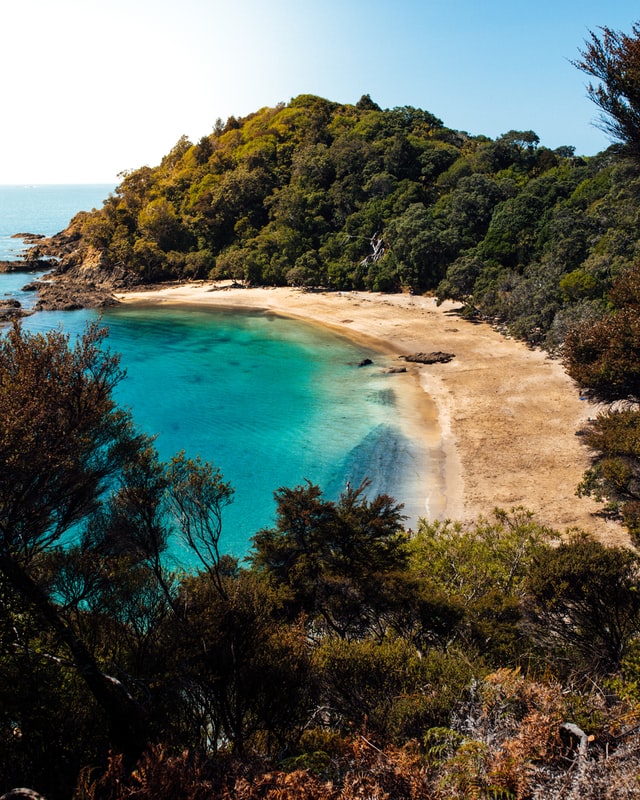 Matapouri Bay
Matapouri Bay is a picturesque white sand beach located on the Tutukaka coast in Northland. It's a great family friendly beach located 40 minutes north of Whangarei and suitable for swimming, body boarding. From Matapouri there is a walkway via the coast to Whale Bay with splendid coastal views (40 minutes one way)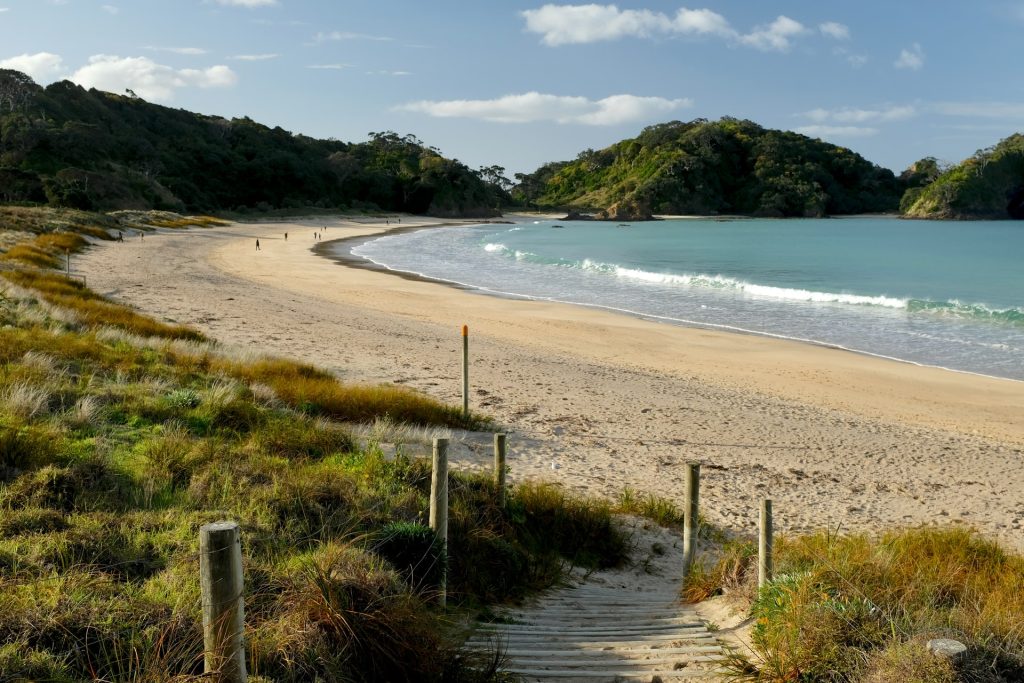 Ninety-Mile Beach
Ninety-Mile Beach is a long strip of sand that stretches from Ahipara to Scott Point, five kilometres south of Cape Maria van Diemen. It is actually 88 kilometres long and known for it's sunsets, surf breaks and as a never ending beach paradise.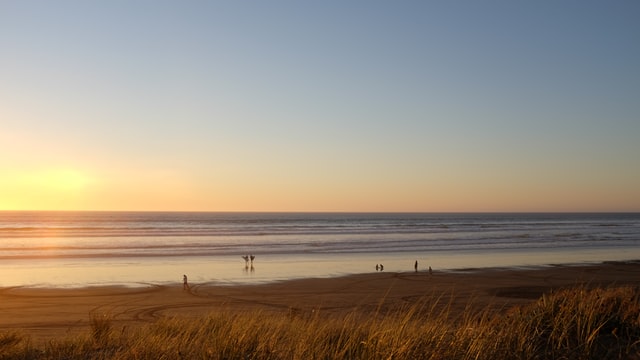 Anchor Bay
Anchor Bay is located in Tawharanui Regional Park in north Auckland. It is located about an 70 minute drive from Takapuna. This long sandy beach is considered one of the best swimming and surfing spots in Auckland, there are grassed areas dotted with Pohutakawa trees perfect for picnics.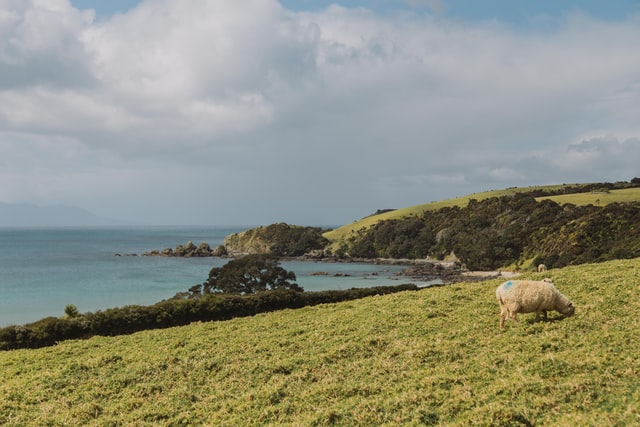 Piha Beach
Piha is scenic black sand beach located on Auckland's west coast. This beach is popular with surfers but there are also lifeguards on patrol in summer for swimmers. It flanked by rugged cliffs on each end and Lion rock in the middle. Take a trip to the nearby waterfall while you are there.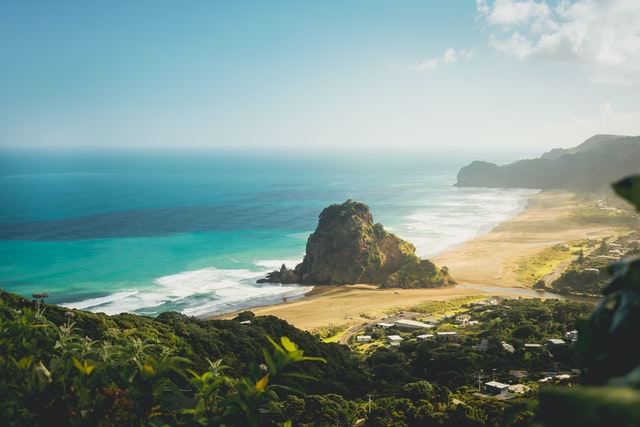 Mission Bay
Mission Bay is a golden sand city beach with views across to Rangitoto island and Waitemata Harbour, it's located a short drive from Aucklands CBD. Lined with Pohutakawa trees, you can grab a bite to eat or an ice cream from across the road at one of the many cafe's or restaurants.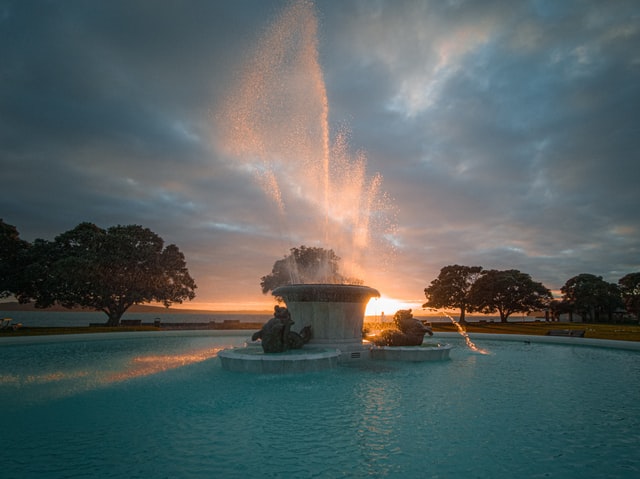 Cathedral Cove
Cathedral Cove is located in Hahei and only 10 minutes away from well known Hot Water Beach in the Coromandel. There are several walking tracks that lead here including the 1.5hr return walk, which give walking access to Gemstone Bay, Mare's Leg and Cathedral Cove. One of the best ways to explore the volcanic area is by boat or kayak. Cathedral Cove is also a marine reserve so you can go snorkelling.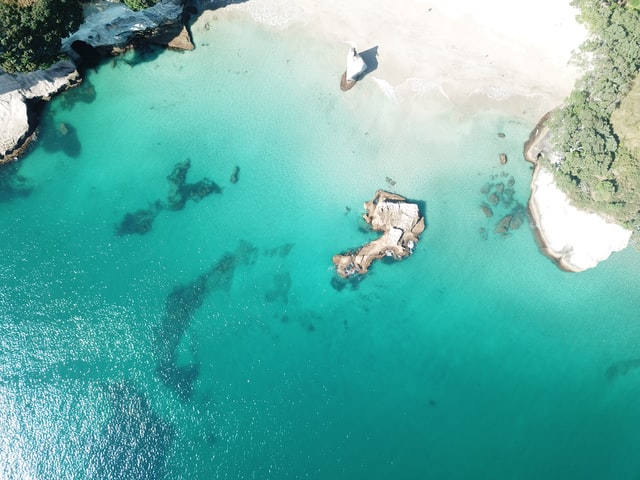 Whangamata
Whangamata in the Coromandel is known as one of the best beaches in New Zealand. It is safe for swimming, surfing, paddle boarding and fishing with amazing coastal scenery. Coromandel Forest Park borders the area and provides many outdoor experiences like short walks, mountain bike trails and old gold mining sites.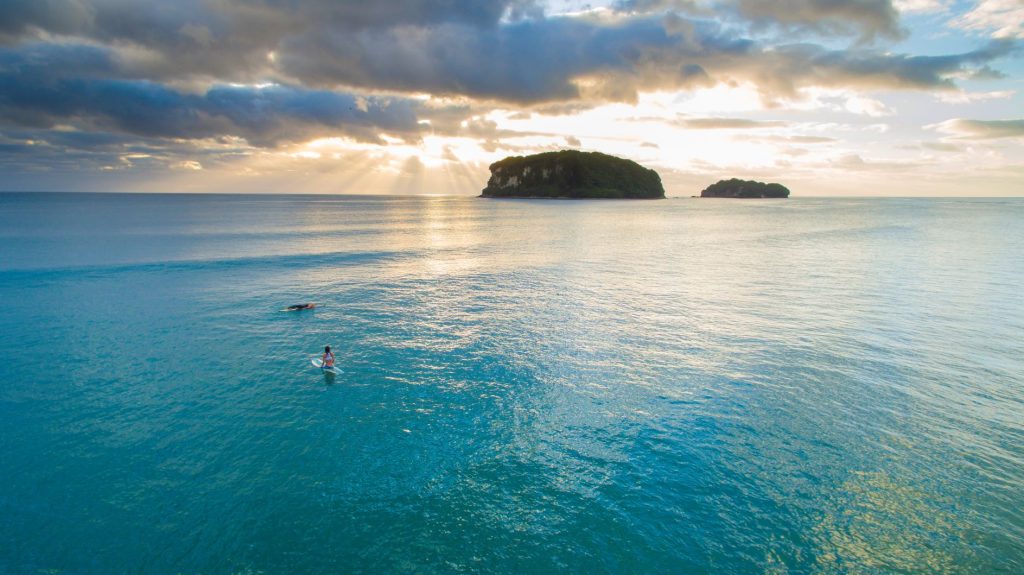 New Chum Beach (Wainuiototo)
This spectacular stretch of golden sand in the Coromandel is fringed by Pohutukawa and native forest and deserted for most of the year. This is a protected beach with no buildings, roads, infrastructure or camping. It is off the beaten track, but worth the while and sometimes you can see Orca or dolphins swimming in the water.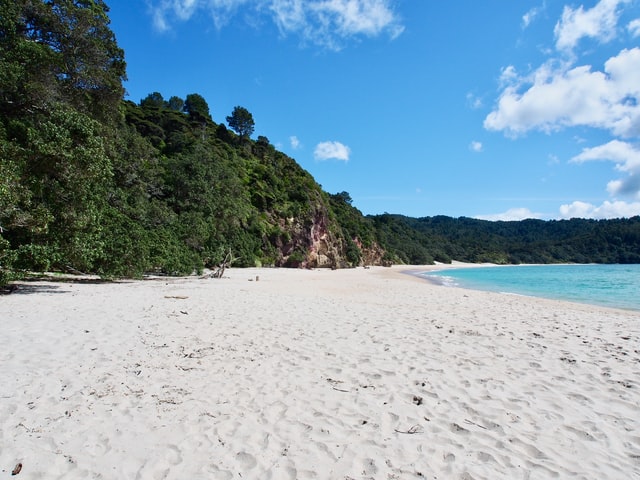 Hot Water Beach
In two hours either side of low tide, visitors are at Hot Water Beach to experience the hot water bubbling through the golden sand. Families, kids and couples can be seen digging their own spa pools in the sand and relaxing in the natural springs. Often rated as the best beach in the world, this is the perfect place to be during the scorching summer. Hot water beach is also good for surfing.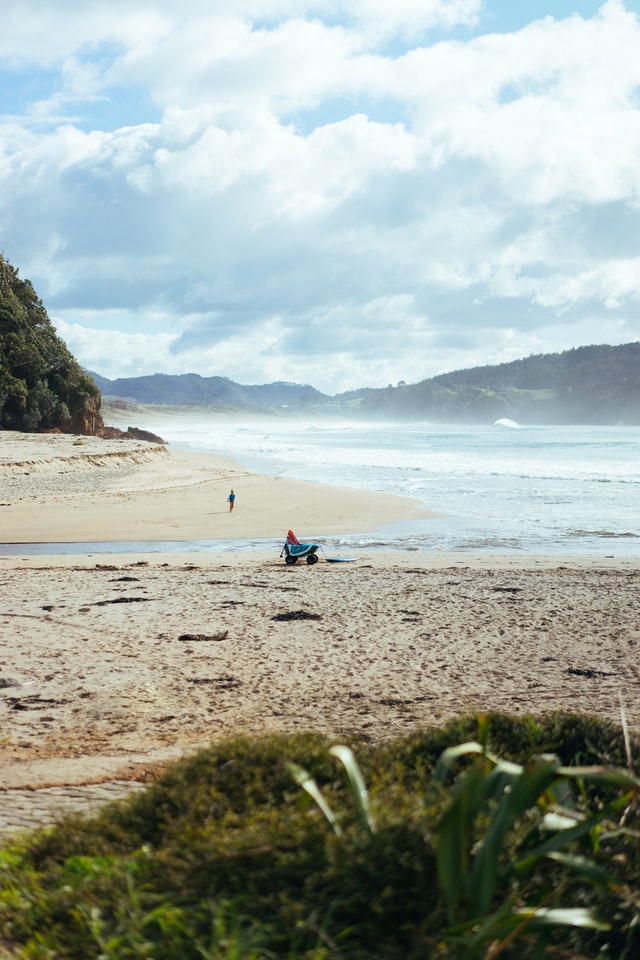 Mount Maunganui
Mount Maunganui in Tauranga is a popular summer time destination for Kiwi's with kilometres of white sand beach, perfect for swimming, surfing and body boarding. Take a walk up the extinct Mount Maunganui volcano for stunning views over the bay. The Mount Hot Pools at the base of mountain offers saltwater bathing and spa treatments, while there are plenty of cafe's, restaurants, and boutiques in the town centre. Tip: If you find Mt Maunganui a bit busy head down to Papamoa which is just as nice.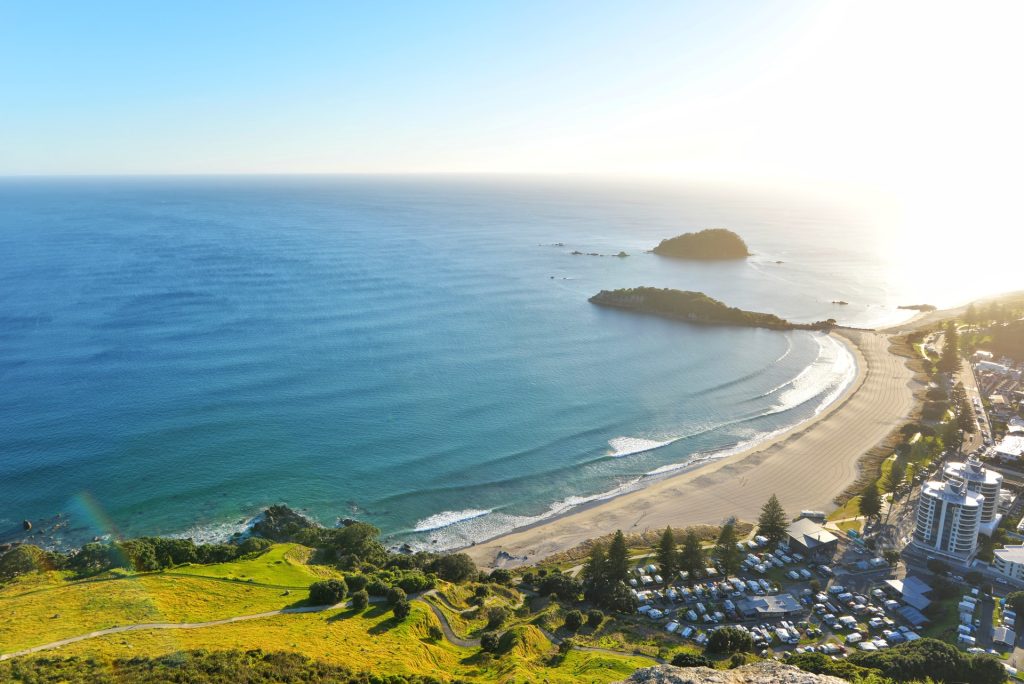 Ngaranui Beach
Ngaranui Beach is the main beach in Raglan, with a long stretch of black sand it is good for swimming, sunbathing and learning to surf. The beach is patrolled by life guards in summer and only 10 minutes from town. Raglan is located less than an hour from Hamilton.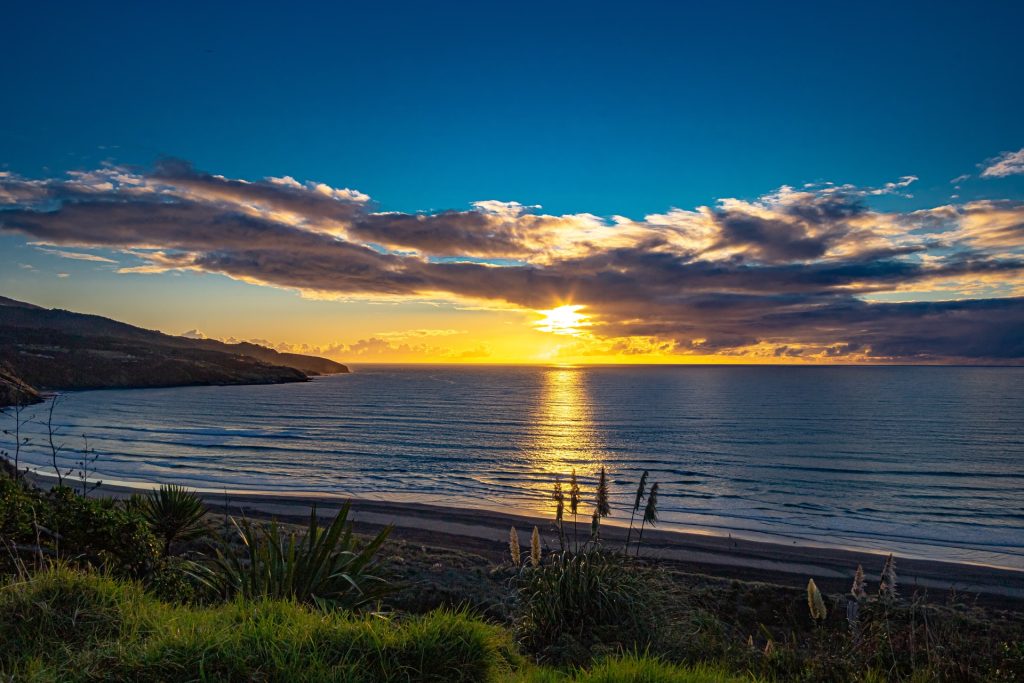 Ohope Beach
Ohope beach in Whakatane is another well loved beach by kiwi's, it has 11km of white sand and suitable for swimmers, surfers, fishing and sunbathing. Ohope beach is nestled among Pohutakawa trees with stunning offshore views of Whakaari (White Island) and Motuhoroa (Whale Island).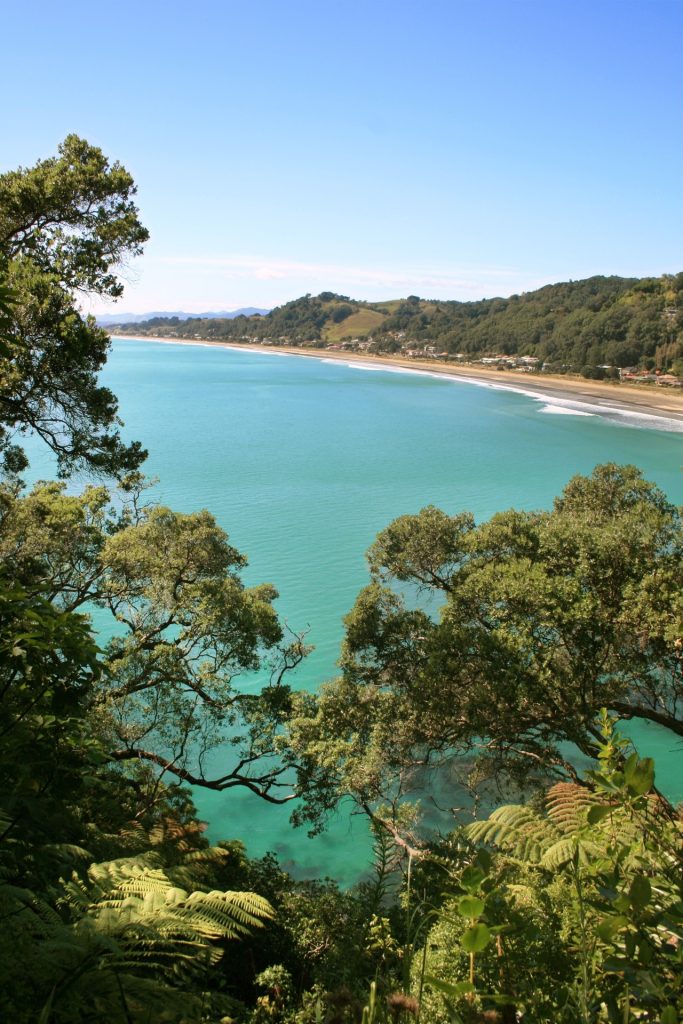 Wainui Beach
Wainui Beach in Gisborne is a beautiful stretch of pristine white sand beach, where you can swim, surf or go fishing. Due to its close proximity to central Gisborne, Wainui Beach is also accessible via the Wainui Beach cycle track – a sealed and smooth 6km ride if you prefer the pedal-powered mode of transport. Check out the stunning coastal walking track along the Wainui-Makorori Headland where you can take in all the views.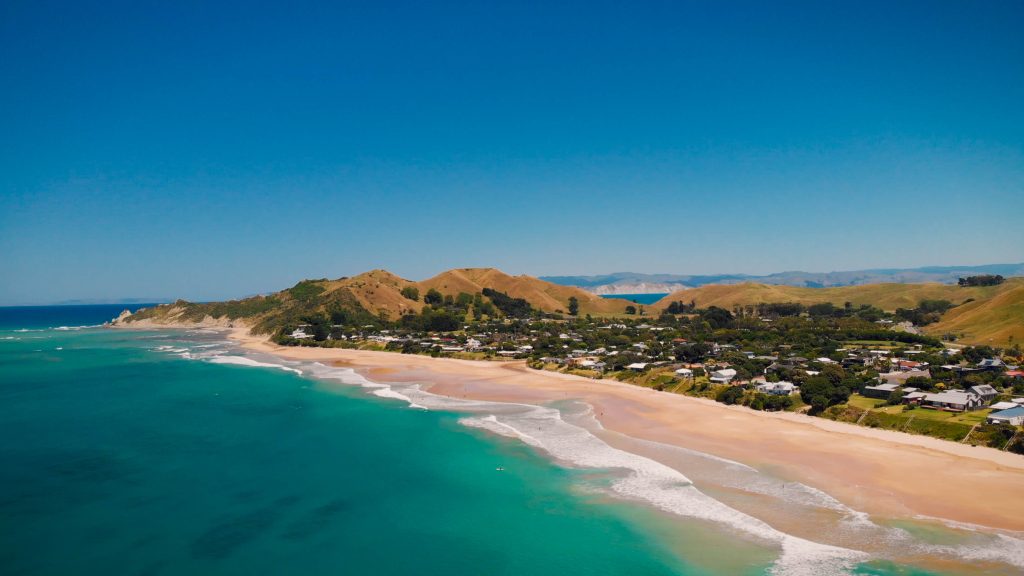 Castlepoint Beach
Castlepoint is located about an hour away from Masterton, the reserve attracts many birds and marine mammals. Perfect for swimming, surfing, walking trails. Castlepoint Beach is a very popular location over the summer period with its reef, lagoon, lighthouse and Castle Rock, Castlepoint is a spectacular stretch of Wairarapa coastline.