Tauranga is a coastal town in the Bay of Plenty about 2 hours and 45 minutes drive away from the North Shore in Auckland. It's a popular beach destination in summer but there is plenty to do year round. Here are 10 great things to do in Tauranga on your next road trip.
Waimarino Adventure Park
Waimarino Adventure Park is set in a tranquil location situated on the banks of the Wairoa River just 10 minutes from Tauranga city. The water park provides the perfect day out for the entire family. There are activities such as kayaking, stand up paddle-boarding, hydroslide, pedallos, rock wall, floating trampoline, human catapult, tarzan swing, low ropes, gladiator pole, diving boards, slip and slide and beach volleyball.
McLaren Falls Park
McLaren Falls Park is 190-hectares of parkland set alongside Lake McLaren and is just 10-minutes by car from Tauranga and home to one of the best botanical tree collections in New Zealand, including natives and exotics. Enjoy a short, easy stroll around the lake or to the picturesque waterfall and spot the glow worms on either side of the track. Maclaren Falls is made up of many cascades located on Mangakarengorengo River. Usually, it's a waterfall without much water because of the Power Generation Station located upstream, but in rainy season it looks amazing.
Hike Mount Maunganui
The Mount Maunganui summit walk or The Mauao summit walk as it's know to locals will take you about 45 mintues to reach the top. The view at the top is worth the hike as you can see the entire Western Bay of Plenty, right across the white sand coastline to Pāpāmoa and beyond, over the harbour and Tauranga's city suburbs, and north across Matakana Island towards Bowentown and Waihī Beach.
The Kaimāī Ranges are in the distance behind Tauranga while the Pacific Ocean stretches out as far as your eyes can see. The view is absolutely breathtaking, so make sure you take a camera with you to snap a photo with the city and beach below.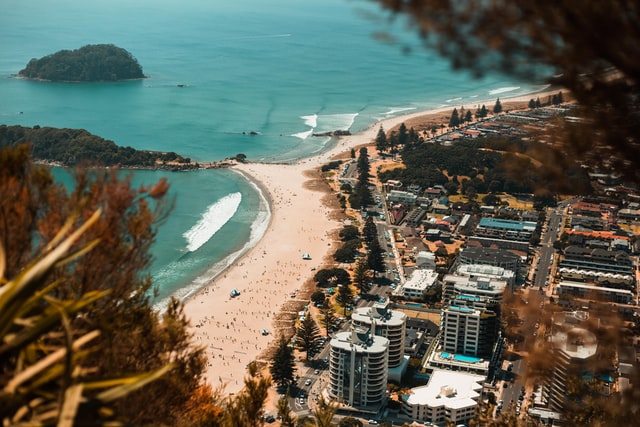 Tauranga Art Gallery
Tauranga Art Gallery Toi Tauranga is a free public gallery housed in the old former BNZ Building on the corner of Willow and Wharf streets, offering a constantly changing programme of contemporary art exhibitions, events and activities. TAG is the first public art gallery in the western bay of Plenty, New Zealand residents are free but a donation is appreciated and International visitors are $7 with children under 12 Free.
Mt Maunganui Main Beach
Mount Maunganui is the perfect beach paradise and popular with kiwi families especially in summer time. There is plenty of space on the long white sand bays. It lies at the base of Mauao (Mount Maunganui) and has a gentle swell with uninterrupted views across the Pacific Ocean. There is plenty of parking here for your rental car, and the facilities like shops, cafes, toilets and showers are close by.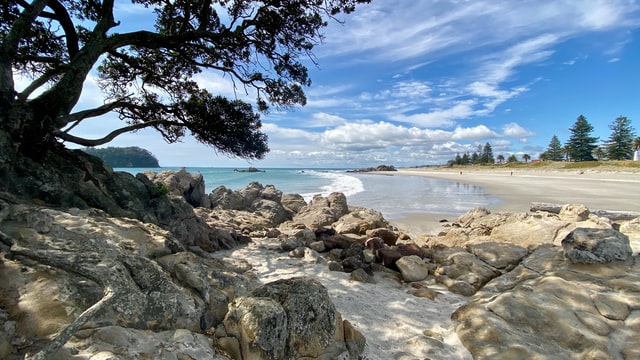 Te Puna Quarry Park
Te Puna Quarry Park is a place of beauty with walkways, panoramic views, native & exotic trees, specialised gardens, ponds, sculptures, butterfly house, picnic lawns and seats. This disused quarry is now a world-class park that offers plenty of secret trails through the bush. Kids will love exploring and climbing over the old quarry machinery, the wooden log train and down the spine of the scaly dragon. There's a huge wooden xylophone and metal tubes dangling among the trees for making musical tunes, and the butterfly house will keep the kids mesmerised for hours.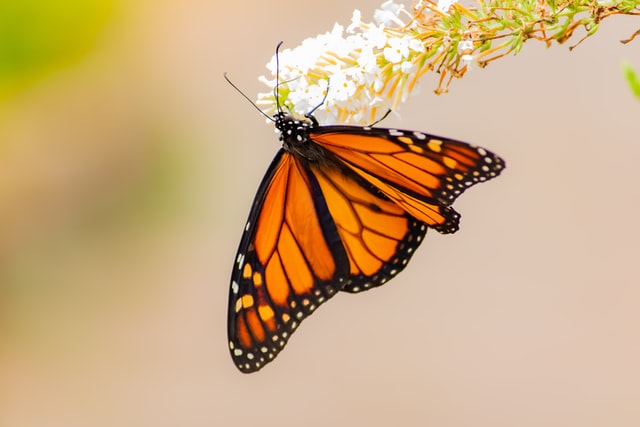 Moturiki Island
This small island sits just off Mount Maunganui Beach and is connected by a man-made land bridge. Today the island, which covers almost 2.5-hectares and has been reverted back to its natural state. A popular walking track will lead you to the northern tip of the island where you'll find a blowhole which shoots water skyward during high tides and large ocean swells which will take you 5 – 10 minutes to reach. It is also a good place for rock fishing.
Markets
Be sure to check out the Farmers markets every Saturday at Tauranga primary school from 7.45am to 12pm. It's purpose is to enable food growers and producers to sell directly to the customer. This also gives the customer the opportunity to meet and question the grower or producer about their product.
Wander down to the Little Big markets through the isles of artisan stallholders, enjoy live music from local musicians and treat yourself to delicious gourmet street food. Running from 9 am – 2 pm on the first, third and last Saturday of every month at Coronation Park in Mount Maunganui.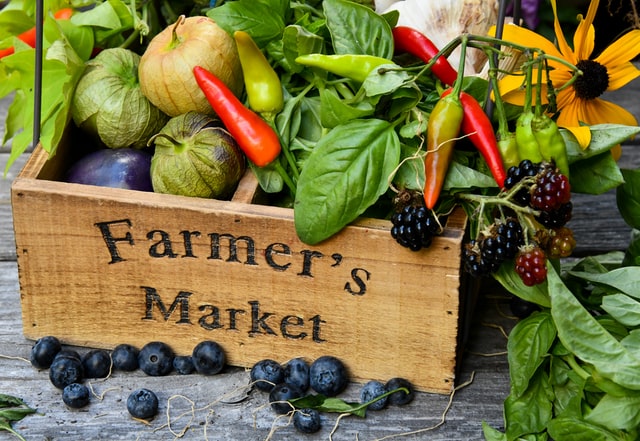 Mount Hot Pools
The Mount Maunganui hot salt water pools can help ease aches and pains and is believed to help improve mobility and detoxify our bodies. There are several pools here located at the base of Mauao and feature massage jets, shade sails and built-in seating. There's a toddlers' pool and you can treat yourself to a soothing massage or private pool if you wish.
Kaiate Falls
Kaiate Falls (also known as Te Rerekawau Falls) is about a 30-minute drive from Tauranga. The walking tracks are well-formed, there is a main track that leads to the top, and another to the base of the upper series of falls before continuing downhill to the lower falls. There is a swimming hole at the base of the the lower falls.
Main Image: Joris Visser/Unsplash