Driving to Taranaki will take you about 5 1/2 hours from Auckland in your rental car. New Plymouth is the main centre located in the region on the west coast of New Zealand, and is well known for its art galleries and parks. The rugged and wild coastline is home to more than 12 world-class surf breaks, and the symmetrical volcanic cone of Mt Taranaki even featured in the Last Samurai movie starring Tom Cruise.
Taranaki Gardens
Taranaki has some of the most beautiful and colourful gardens in the country. Discover Pukeiti which is renowned for its rhododendron collection, this 360ha rainforest property located between Mount Taranaki and the coast, just south of New Plymouth. Established in 1951, Pukeiti is an internationally recognised garden and plant collection.
Pukekura Park is a 52 hectare park which includes two lakes (one of which has wooden rowboats for hire) a children's playground, cricket ground, fernery and display houses, kiosk, fountain and waterfall, historic band rotunda and an entertainment venue – the Bowl of Brooklands.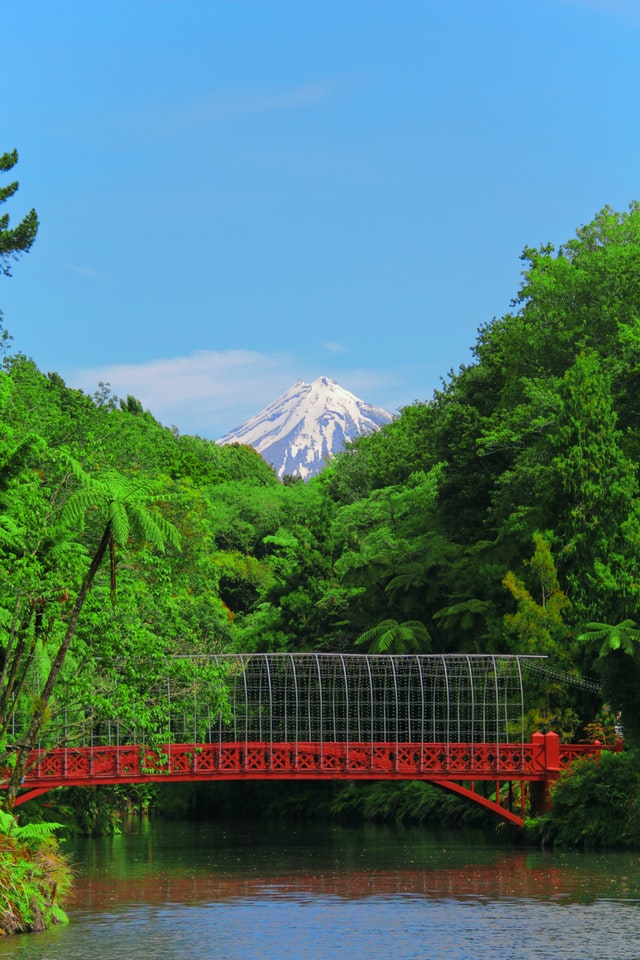 Dawson Falls
The Dawson falls (18 m) is located in the Egmont National Park, it's a short 10 minute walk to get to them from the visitor centre. The falls was named after Thomas Dawson, the first European to discover this 18 m high waterfall in 1885. To Māori they are known as Te Rere o Noke or the Falls of Noke, a Māori warrior who hid from his pursuers behind the falls.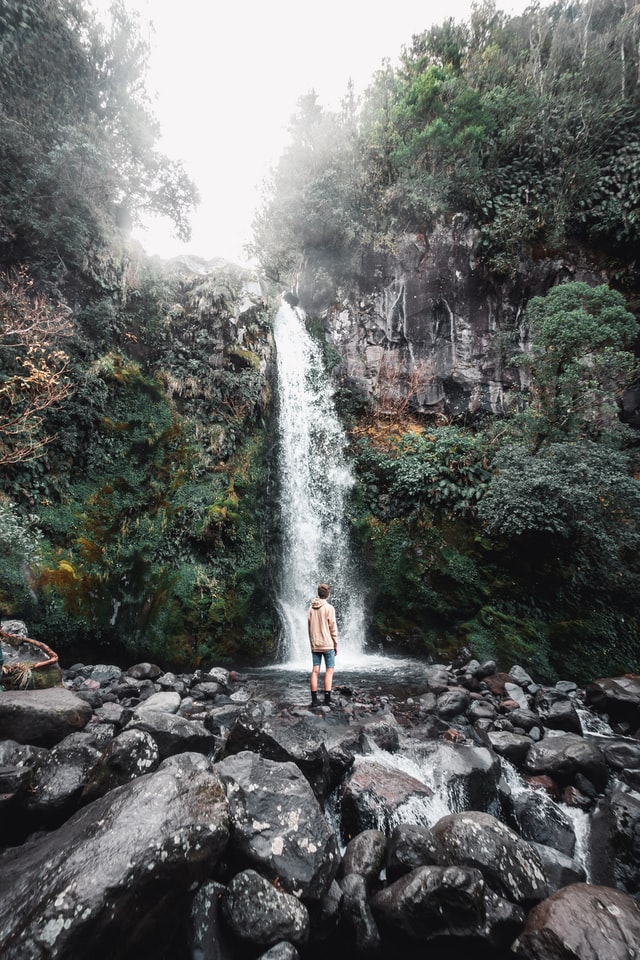 Puke Ariki
Puke Ariki is an integrated knowledge hub comprising museum, library, research centre, museum store and i-SITE for a visitor experience that is like no other. Puke Ariki is located in New Plymouth, between the majestic Mount Taranaki and the wild Tasman Sea, Puke Ariki is a place of wonder, of excitement, of discovery and adventure.
Hike Pouakai Circuit
The Pouakai Circuit is Egmont National Park's premier 2–3 day tramp offers spectacular views of Mt Taranaki and the surrounding countryside. The 25 km track passes through forest, alpine tussock fields and the unique Ahukawakawa Swamp.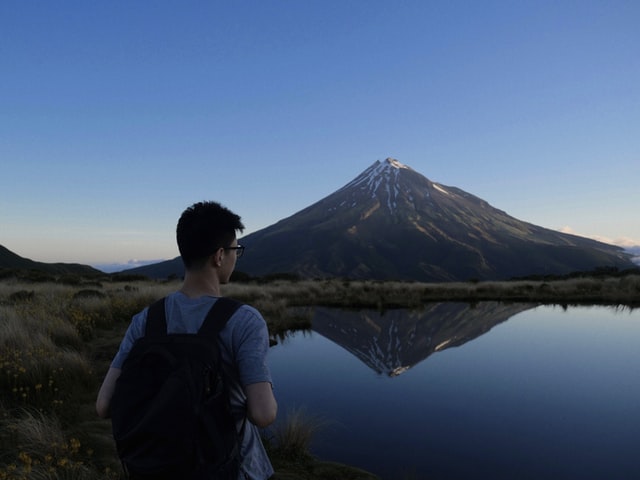 Drive Surf Highway 45
Taranaki's coast boasts 180 degrees of ocean swells, so you can be almost certain to find some awesome surf somewhere along the famous highway. Jump in the car and go exploring – chances are you'll find the perfect wave! You'll also find cafes, craft shops, and great coastal scenery for those who don't surf.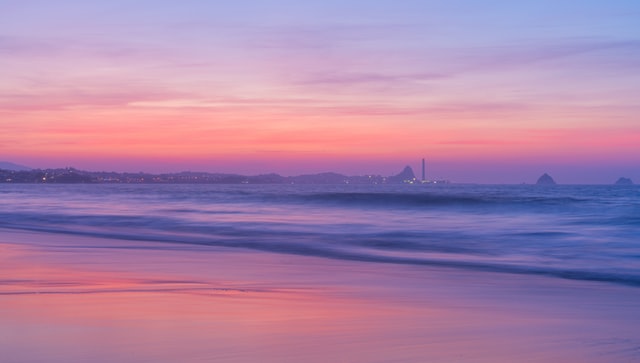 Sugar loaf Islands
The Sugar Loaf Islands and Paritutu Rock are the remenants of an ancient extinct volcano. These are located off the coast of New Plymouth, above the water you can see seven islands and several reefs. Below the surface there are spectacular cliffs, canyons, boulder reefs and sand expanses. The waters around the islands are home to at least 89 species of fish, 33 species of encrusting sponges, 28 species of bryozoans and 9 nudibranchs. The area is a mixing place for both cool and warm water species. Seals and oceanic seabirds breed here; dolphins and whales regularly pass through.
Govett-Brewster Art Gallery/Len Lye Centre
The Govett-Brewster Art Gallery in New Plymouth is New Zealand's contemporary art museum and home to the The Len Lye Centre – New Zealand's first institution dedicated to a single artist, the pioneering filmmaker and kinetic sculptor, Len Lye. The Gallery continues to build on its 50-year legacy of presenting meaningful cutting-edge art, from local, national and international contemporary artists, that explores and celebrates who we are.
Cape Egmont Lighthouse
Take a road trip down Surf Highway 45, take a detour to the Cape Egmont Lighthouse who's been shining its light since 1881. By day, the Cape Egmont Lighthouse visibly marks the western-most point of the Taranaki coast. By night, it flashes white light once every eight seconds, telling ships up to 22 nautical miles away exactly where they are.
New Plymouth Coastal Walkway
The Coastal Walkway stretches about 13k from Port Taranaki to Bell Block Beach. It features the Len Lye wind wand and Te Rewa Rewa bridge, this steel arch structure is intended to look like a whale skeleton or breaking wave and frames Mt Taranaki, then continue on past surf beaches at Fitzroy and East End.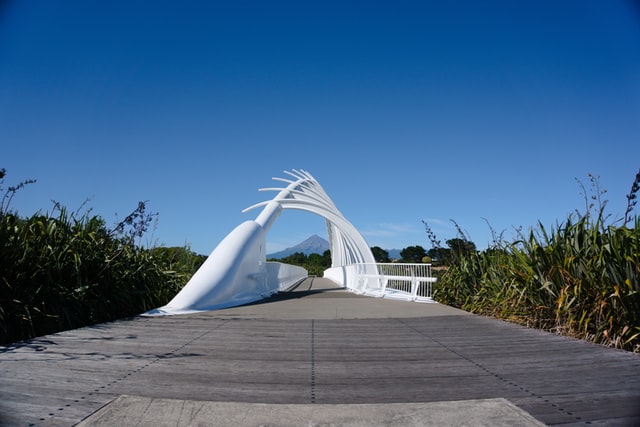 The Three Sisters and Elephant Rock
On the North Taranaki coast, near Tongaporutu, you can see two (formerly three) 25 metre rock formations known as the Three Sisters. Another spectacular formation called Elephant Rock once stood alongside the sisters, before losing its trunk to erosion in 2016. For great views of the Three Sisters, turn down Pilot Road, which is on the seaward side of State Highway 3 north of the Tongaporutu Bridge. If you want to get down on the sand with the formations, turn off South Highway 3 down Clifton Road, which is south of the Tongaporutu Bridge.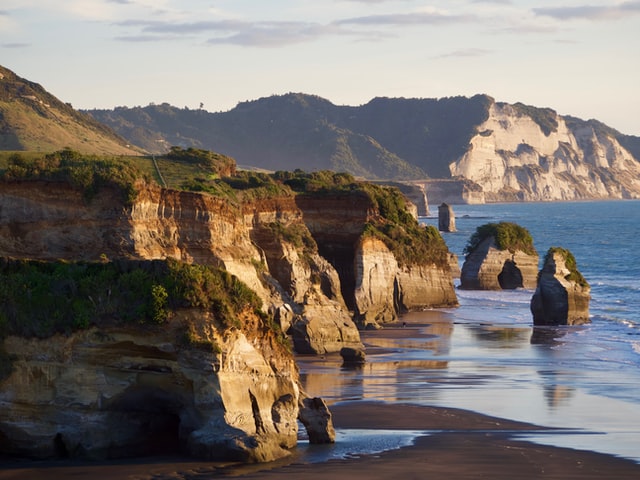 Main Image: Sophie Turner/Unsplash