Rotorua is a "must visit" while you are visiting New Zealand as it's such a fun and interesting destination. It's well known for it's geothermal activity and sulphur smell. While it is a tourist hotspot, there are still plenty of affordable activities, and a road trip to Rotorua in your rental car only takes about 3 hours from Aucklands North Shore. Book your car rental in advance if you plan on going away for school holidays or over a long weekend.
Geothermal Activity
Go for a stroll around Waimangu Volcanic Valley where you can view steam vents, hot springs, geysers and bright coloured lakes. There are a range of activities from a 1.5km highlights walk to a 4.5km hike over Mount Haszard for panoramic views. Wai-O-Tapu Thermal Wonderland is one for the most colourful volcanic areas in New Zealand. View the Champagne Pool, Sinter Terrace formations, steaming ground, expansive vistas, bubbling mud pools and volcanic craters.
Alternatively, you can check out the natural boiling, bubbling and steaming geothermal action throughout Kuirau Park, it is free to visit and located within an easy walk from the city centre, parking is also free. Several walkways take you through the park to see the crater lake, mud pools, hot springs, and a free thermal foot bath, all set in a beautiful setting dotted with flower beds and native flora.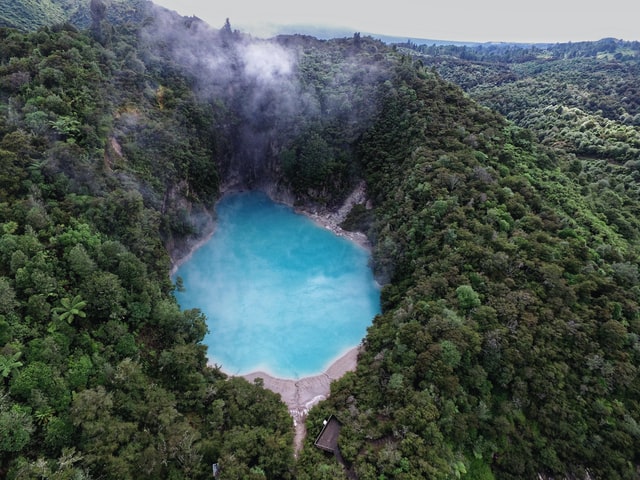 Experience Maori Culture
Rotorua is one of the best places in New Zealand to experience Maori Culture and there are several historic sites which are good for the whole family. Take part on a Maori cultural tour and performance at Te Puia, Tamaki Village, Mitai Village or Whakarewarewa – The Living Maori Village, learn about their history, take part in a Powhiri (Welcoming ceremony), learn to dance with poi or a haka, then enjoy a Hangi (cooked in the ground) dinner.
Visitors are welcome to walk around Ohinemutu Maori village at no charge, and enjoy the steaming vents, boiling hot pools, and natural beauty of the environment. The village is home to a traditional Māori meeting house named Tamatekapua. The carvings on the house are exquisite and highlighted by hundreds of inlaid shiny paua shells. The house is not open to the public, but you are welcome to enjoy it from the outside. Towards the lake's edge is the historic St Faith's Church. While its exterior is Tudor-style, the church interior has a strong Māori influence, with intricate carvings and woven panels.
Whakarewarewa Forest
The Whakarewarewa Forest is also known as the "Redwoods" (Named after the giant Californian Redwoods). There are a range of walking and biking trails where you can admire the breath taking scenery. Enjoy walks from 1.7km up to 34km long. Inside the forest is the Redwoods Treewalk and Nightlights where you can take a stroll along bridges and platforms suspended high off the gound in the trees, and if you go at night there is something quite magical about it being lit up with lights.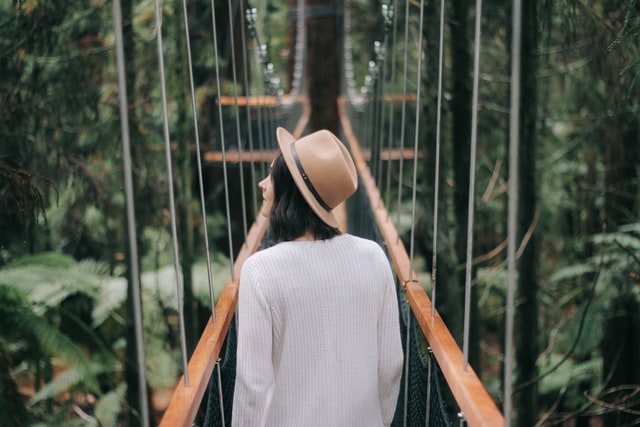 Mountain Biking
Rotorua is one of the best destinations in the world for mountain biking, with nearly 200 kilometres of mountain bike trails in Whakarewarewa Forest consisting of trails to suit everyone, from beginners (there's even a kids' loop) through to extreme downhill competitors, and for any age and fitness level.
If you prefer road cycling, have a go riding Te Ara Ahi dubbed 'Thermal by Bike' taking you past geothermal areas, beautiful lakes and forests, significant historical and cultural sites. You can also ride all the way around Lake Rotorua, with a dedicated cycle trail.
There are many more options in and near Rotorua, such as Skyline MTB Park, Rainbow Mountain, Moerangi Track, Western Okataina Walkway, the Timber Trail and Whirinaki Forest Trails, to name a few. You can also hire bikes if you don't have one.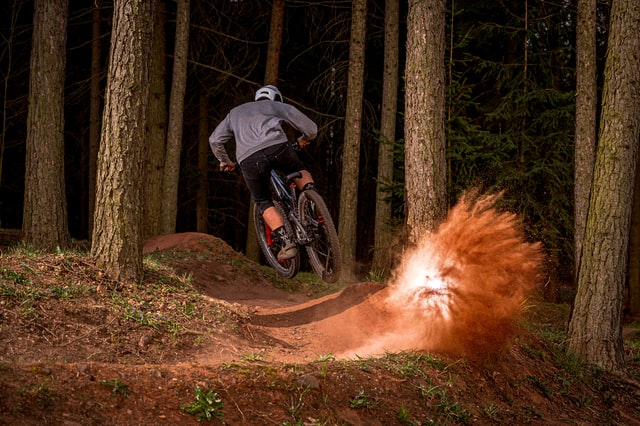 Kerosene Creek
Kerosene Creek is a steaming waterfall and natural hot water swimming hole, this hidden spot is about 25 minutes from Rotorua CBD. Located partway down a foresty road where you will find a carpark. Take a short walk through the forest alongside a hot water stream and you will come to a large pool where you can soak and relax.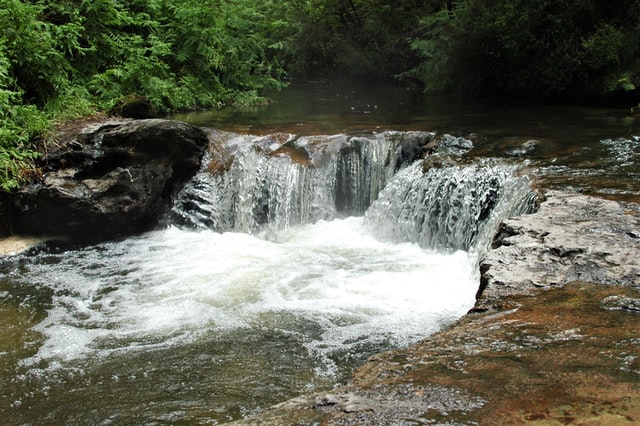 Hot Pools
Visitors have been flocking to Rotorua's thermal waters since the mid-19th century to bathe in the hot pools along the edge of Lake Rotorua, where the geothermally heated water was hailed for its healing properties. There are a variety of hot pools in Rotorua. Try Waikite Valley thermal pools, Polynesian Spa or Hells Gate.
Okere Falls
The Okere falls track is a 1.2km forest track takes you to scenic lookouts over the Kaituna river and it's spectacular waterfalls. There's a viewing platform that showcases the highest commercially rafted waterfall in the world, where you can watch rafters and kayakers make their way down into the deep pool below. The falls are also the home of Rotorua's first hydro-electric power station, the Tutea Caves and Hinemoa's steps. You can see glow worms at night and there is plenty to keep kids entertained on this short, easy walk.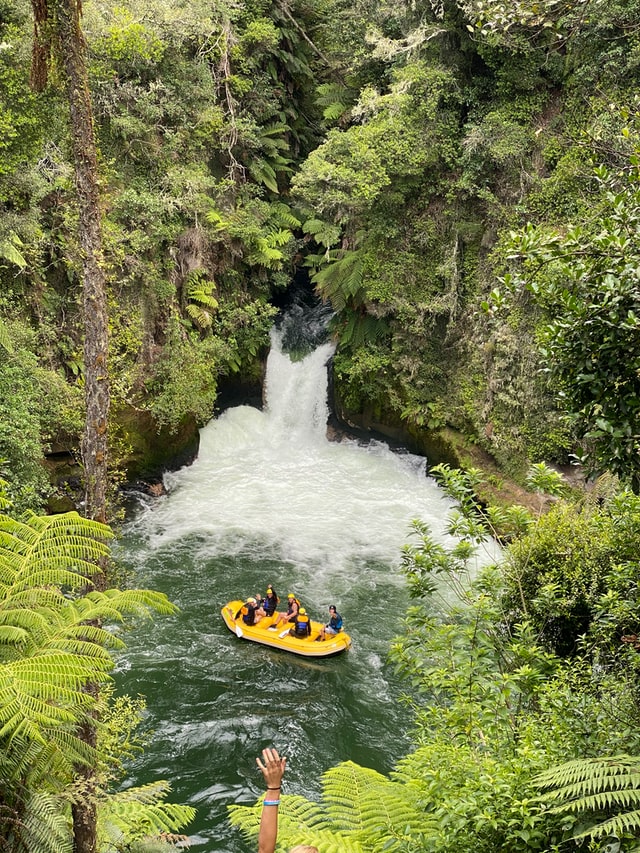 Rainbow Mountain
Rainbow Mountain lies 26km south-east of Rotorua. Take in the sights of the two craters on the Crater Lake Walk which is about 1km and takes 15 minutes, then if you want to continue north and upwards through regenerating native vegetation and past the bare, coloured and steaming ridges this will take approximately 1 hour 30 minutes from the crater lakes to reach the summit. There are regular opportunities for good views over the surrounding countryside. From here you will get 360 degree views and can see Mt Tarawera, Lakes Tarawera, Rotomahana and Rerewhakaaitu to the north; the Paeroa Range to the west; the Urewera Ranges and Kaimanawa Forest to the east; and Mt Tauhara, Lake Taupō and the volcanic peaks of Tongariro National Park to the south.
Government Gardens
Government Gardens is a picturesque park situated along the edge of Lake Rotorua and just minutes from the city centre, spanning 20 hectares. The Tudor-style Bath House was built onsite and opened in 1908, it now houses the Rotorua Museum and art gallery which is currently closed for renovation and earthquake strengthening. Another historically significant building on this site is Blue Baths.
A walk through Government Gardens takes you past ancient bubbling geothermal pools, traditional and modern Māori-inspired art, sculptures, and manicured grounds for bowls, croquet, petanque and golf. You'll also find a soldiers' memorial for the servicemen of the local Te Arawa tribe, the Klamath Falls Rose Gardens, Te Runanga Tearooms and a band rotunda.
Sulphur Bay Wildlife Refuge
Just past the Rotorua Museum and next to the south-eastern corner of Lake Rotorua, you'll find some amazing geothermal activity to explore that's also home to unique plantlife and threatened birds who've adapted in order to survive in this harsh environment. Sulphur Bay Wildlife Refuge is free to explore and within walking distance from the city centre. View steam vents, boiling mud pools, naturally hot water and the Puarenga Stream are home to an array of bird species, including the nationally threatened New Zealand dabchick, banded dotterel, and black-billed gull in this 145-hectare wildlife refuge. The water in the bay appears murky due to sulphur in the water which is low in oxygen and quite acidic (pH 3.5).
Main Image – Photo by Sébastien Goldberg/Unsplash