We all love a freebie, and there are plenty of activities to enjoy in Auckland that don't cost a thing. We have rounded up the 10 best things you can do for free in Auckland, all you need is your rental car to get there. Don't forget you can book a car online in advance or give us a call on (09) 4880920.
Climb a Volcano
Throughout Auckland's landscape, 48 volcanic cones lie dormant, but you can enjoy 360-degree views of them from all around. Mount Eden is Auckland's highest natural point: a crater 50 metres deep and of significant Maori history. Take a walk through Cornwall Park and One Tree Hill, one of the largest former Maori settlement complexes in New Zealand, or hike to the top of Mt. Victoria or North Head in Devonport.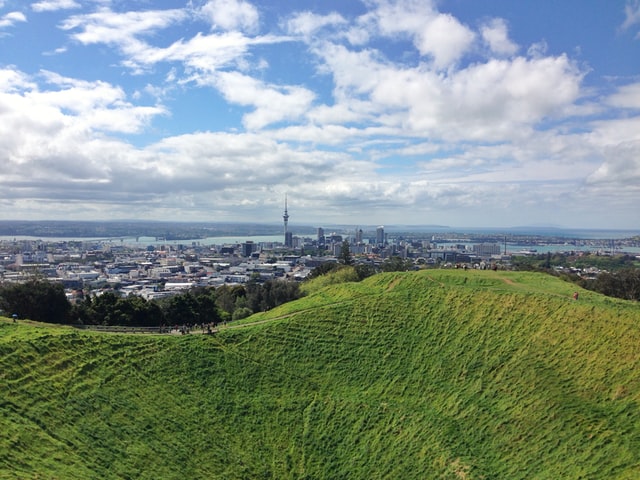 Go Snorkelling
One of New Zealand's most popular diving and snorkelling sites is Goat Island, located just a one hour drive north of Auckland. In addition to the Blue Maomao, Snapper, Red Moki, Crayfish and many anemones, sponges and other marine life that live in this wild and natural environment, the Goat Island Marine Reserve offers a unique snorkeling and scuba diving experience.
Head to a beach
Many of Auckland's beaches are within easy reach in one of our rental cars. It's amazing the diversity of beaches, from idyllic white-sand beaches to wild black-sand beaches. You can find golden sands near Auckland on beaches like Orewa, or white sands north of Auckland on beaches like Tawharanui, or further North to Pakiri, alternatively head south to the Pohutakawa coast and enjoy Maraetai or Beachlands. Black sand beaches on Aucklands West coast feature rocky clifftops and dramatic coastlines. West Auckland Beaches we like include Muriwai, Piha, Bethells Beach, KareKare Beach and Kariotahi Beach all located about an hour from Aucklands CBD. We also have beautiful beaches just a stone's throw from downtown Auckland, including Takapuna, Devonport, Mission Bay and St Heliers.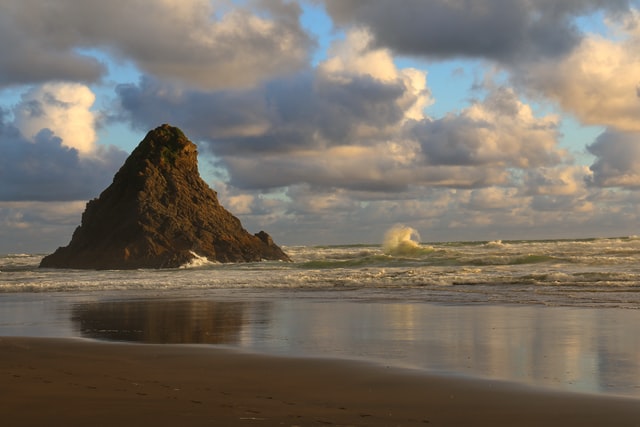 Arataki Visitor Centre
In addition to serving as a gateway to the Waitakere Ranges Regional Park, the Arataki Visitor Centre also acts as a hub for the wider Auckland Regional Parks network. Arataki Visitor Centre features hiking tracks, ecological and cultural landscapes, nature activities and art exhibitions. On arrival you are welcomed by an 11m kauri pou (post) and one of the largest in New Zealand, was carved by tribal members and depicts the ancestors of iwi Te Kawerau a Maki. It reaffirms their pride and guardianship of the Waitakere ranges.
Visit a lighthouse
There is something truly special about driving out to the magnificent Awhitu Peninsula, where the Tasman Sea crashes on the black sands of the west coast and meets the tranquil bays of the east. Manukau Heads Lighthouse situated on the tip of Awhitu Peninsula, is one of only a few lighthouses in New Zealand that may be climbed to the top. Walk around and up the lighthouse, then sit down for a while to enjoy the views. Admission is free, but a donation is appreciated. The gates are open daily from 9am to 5pm.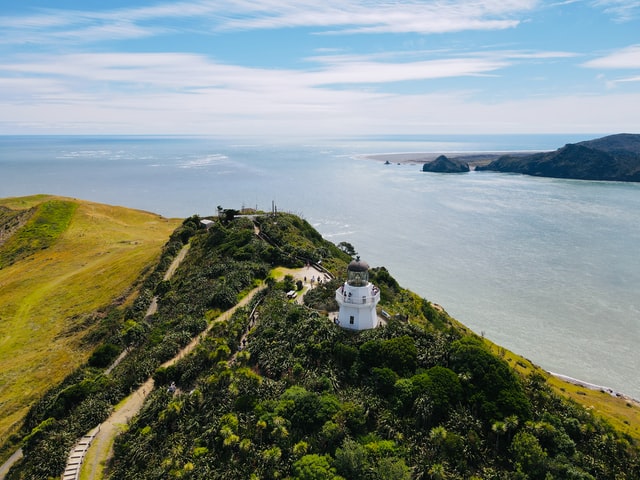 Go hiking in a Regional Park
Auckland has an abundance of natural beauty between the Waitakere Ranges and the glittering Hauraki Gulf. Many of our regional parks have hiking trails, which means experiencing native bush alive with birdlife and enjoy expansive views. There are many scenic trails winding through Auckland's parks and reserves whether you want to head north, south, east or west.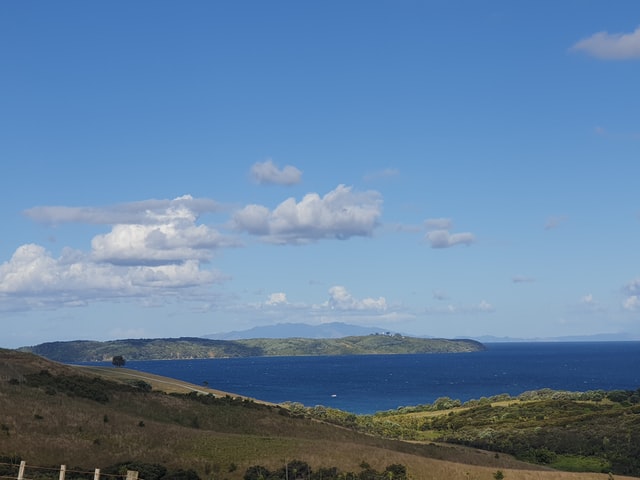 Wintergardens
Located at the Auckland Domain, the Wintergarden is a treasure of unique historical interest. It was designed in the early 1900s by the famous English partnership of Edwin Lutyens and Gertrude Jeckyll and opened in 1913. Two barrel-vaulted Victorian style glass houses, with an extensive courtyard and sunken pool, showcase rare plants like the Amorphopallus titanum (corpse flower) and large collections of chrysanthemums in an ever-changing display. Local businessman William Elliot added the marble statues in the courtyard between the glass houses in the 1920s and 30s. In one house, tropical plants flourish in heated conditions, while in the other, temperate plants change with seasonal changes. The formal design is linked by vast pergolas that host showy climbers. The Wintergarden complex is completed by a collection of ferns growing in a sunken scoria quarry at the rear.
Muriwai Gannet Colony
The Muriwai Gannet Colony is a one hour drive from central Auckland. There is a walking track right next to the car park that leads to a viewing platform right above the main colony area. Approximately 1,200 gannets nest at this site every year between August and March. Every pair lays one egg, and the parents rotate working on the nest. Within a week of hatching, the chicks are covered with fluffy down. As the birds mature they grow more feathers and start to practice flapping their wings in preparation for their journey across the Tasman Sea to Australia.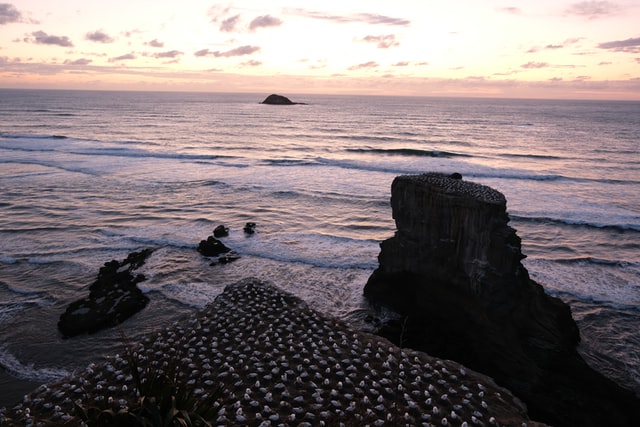 Auckland Botanic Gardens
Located in Manurewa, Auckland Botanic Gardens cover 64 hectares (156 acres) of land, including native forest which covers 10 hectares. These gardens focus on our place in the South Pacific with unique gardens and landscapes. The public are encouraged to engage with the plants and gardens and the team of staff are very knowledgeable. They also run plant trials to find out which plants do best in Auckland's climate without pesticides and minimal intervention.
Auckland Bridge Light Show
The Vector Lights displayed at Auckland Harbour Bridge is a world-first solar-powered, battery-powered and peer-to-peer exhibit that shows how smarter urban energy can be generated. A Vector Light show will be programmed to coincide with special events throughout the year and frame the architecture of the Harbour Bridge on alternate nights. Some of the best views are from Little Shoal Bay, Bayswater Marina, Mt Victoria, Queens Parade – Devonport, Bastion point, Auckland waterfront, Harbour View reserve – Te Atatu, Sentinel beach and Mt Eden.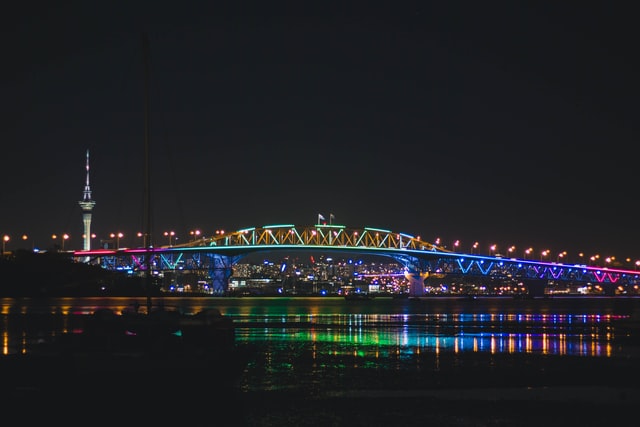 Photo Credit: Unsplash